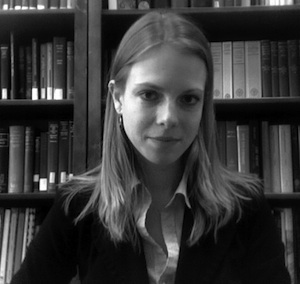 Assistant Professor of English
Lindy Brady specializes in Old English, medieval Irish and Welsh, Old Norse, and Anglo-Latin languages and literatures, and she teaches classes on Old and Middle English literature and the History of the English Language.  Her research interests include multilingual and transcultural approaches to the Middle Ages, the role of the landscape in literature, and representations of identity in medieval texts.  She is currently at work on a book entitled Welsh Identity in Anglo-Saxon Literature, editing a collection of Essays on Old English Literature in Honor of J. R. Hall, and reviews scholarship for the "Year's Work in Old English Studies" for the Old English Newsletter.
Education

Ph.D., University of Connecticut (2012)
M.A., Brown University (2008)
B.A., Brown University (2008)
Selected Publications
"Echoes of Britons on a Fenland Frontier in the Old English Andreas," The Review of English Studies 61 (2010)
"Booklet Ten of Peniarth 359: An Early Modern English Astrological Manual Encoded through Welsh Phonology,"Studia Celtica 45 (2011)
"Antifeminist Tradition in Arthur and Gorlagon and the Quest to Understand Women," Notes and Queries 59 (2012)
"Apples on Willow Trees: a Metaphor for Grafting and Spiritual Succession in the Early Irish Saints' Lives of Berach and Coemgen," Proceedings of the Harvard Celtic Colloquium 31 (2012)
"The 'Dark Welsh' as Slaves and Slave Traders in Exeter Book Riddles 52 and 72," forthcoming in English Studies (2013)
Welsh Identity in Anglo-Saxon Literature, book manuscript in progress
"The Spatial Ambiguity of Guthlac A," forthcoming in Postcolonising the Medieval Image, ed. Eva Frojmovic and Catherine Karkov.