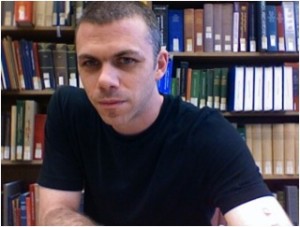 Michael Gardiner, assistant professor of music, teaches music theory. A theorist and laptop composer with interests ranging from the intersection of theological and musical space in the chants of Hildegard von Bingen, to the keyboard works of Louis Couperin, Japanese noh drama, and spectrographic images of timbral morphology. He is currently completing an analytic study of Hildegard von Binge's liturgical drama Ordo Virtutum.
As a student at New England Conservatory (where he earned his doctorate in 2009), Gardiner favors a theoretical approach generally associated with Robert Cogan and Pozzi Escot one that examines the formal aspects of music from the standpoint of tone color and acoustics and draws heavily on linguistic theory as well.
Of his work as a composer, Vital Weekly writes: "Rarely is someone with a formal and recognized institutional academic background able to both use this and reject it in relation to composition." As a member of the laptop duo Parallel Lives (with John Latartara), he explores intersections between canonic repertoires and electronics. The group recently released Beethoven Hammerklavier on Centaur Records, a collaboration relying solely on performances by pianists, Beethoven samples, and ambient recordings made at a conservatory of music to create a view of the musical work documented in all of its stages; from discussion, to the practice room, recording studio and concert hall, to its final confrontation with software applications that threaten its identity.