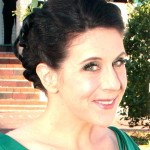 Office
C121 Bondurant Hall
662-915-7456
hayes at olemiss.edu
Associate Professor of English and Director of Medieval Studies minor
Teaching and Research Interests
Old and Middle English Literature
History of the English Language
Medieval Religious Devotion
Medieval Drama
Gender Studies
History of the Senses/Sound Theory
Magic and the Occult
Victorian, Modern and Postmodern medievalisms
Education
Ph.D., University of Iowa (2005)
M.A., University of Chicago
B.A., Dartmouth College
Selected Publications
"The Talking Dead: Resounding Voices in Old English Riddles," Exemplaria 20 (2008).
"Privy Speech: Sacred Silence, Dirty Secrets in The Summoner's Tale," The Chaucer Review 40 (2006): 263-88.
"Discovering the Witch's Teat: Magical Practices, Medical Superstitions in The Witch of Edmonton," Journal for the Academic Study of Magic 3 (2005): 43-73.
Articles in Studies in Weird Fiction and Romani Studies
A Biography of the English Language, third edition (Cengage, 2011).
Divine Ventriloquism: Power, Anxiety, Subversion in Medieval English Literature (Palgrave, 2011).