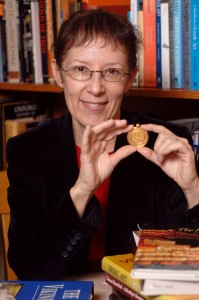 Professor of Art History
Medieval Art History and Archaeology
M.A., Ph.D., University of Minnesota
B.A., Eastern Illinois University
Wicker's interdisciplinary research focuses on the reception of Roman art in Scandinavia during the Early Medieval Period. She is interested in how Late Roman medallions inspired stamped gold pendants known as bracteates, which were worn by elite women across northern Europe. She is participating in the Getty Foundation Seminar, "The Arts of Rome's Provinces" and has collaborated with a contemporary goldsmith to reconstruct early medieval jewelry techniques. In addition to her research on bracteates, she has published on gender in archaeology, female infanticide during the Viking Age, Germanic animal-style art, and runic literacy. She has co-edited three books on gender and archaeology, most recently Situating Gender in European Archaeologies (Budapest: Archaeolingua, 2010). She is currently co-director of an NEH Digital Humanities Start-Up Grant to develop Project Andvari, an online integrated access to dispersed digital collections of early medieval artifacts.
Recent and upcoming presentations
 In April 2013, Wicker presented an invited paper at an international conference on "Engendering Landscape and Landscaping Gender," sponsored by the Institute for European and Mediterranean Archaeology at the University of Buffalo. She also read a refereed paper at the Eleventh Workshop of the International Network Impact of Empire on "Rome and the Worlds Beyond Roman Frontiers" held at New York University in June
In August, she will participate in the culminating seminar of the seminar, "The Arts of Rome's Provinces," at the Getty Villa in Malibu, California. In early September, she will deliver an invited paper in the session "Some Assembly Required: Assembling People, Objects, Discourses, and Landscapes in Archaeology," at the annual meeting of the European Association of Archaeologists held in Pilsen, Czech Republic.
Supported by the National Endowment for the Humanities, Project Andvari will convene an international workshop in Washington, D.C., November 7–10, 2013, for researchers, museum professionals, and technology experts to refine the conceptual design of a proposed digital portal and to identify its technological requirements in preparation for a pilot project for integrated online access to collections of early medieval northern Europe artifacts.
Wicker's 2011–2013 publications
 "Inspiring the Barbarians? The Transformation from Roman Medallions to Scandinavian Bracteates," pp. 105–120 inRome Beyond the Imperial Frontiers: Imports, Attitudes, and Practices (Journal of Roman Archaeology Supplementary Series 94), edited by Peter S. Wells. Portsmouth RI: Journal of Roman Archaeology, 2013. ISSN 978-1-887829-94-6, ISBN 1-887829-94-6
"Bracteates and Runes," with Henrik Williams, Futhark: International Journal of Runic Studies 3, 2012 (2013): 151–213. ISSN 1892-0950
"The Elusive Smith," pp. 29–36 in Goldsmith Mysteries: Archaeological, Pictorial and Documentary Evidence from the 1st Millennium AD in Northern Europe (Schriften des Archäologischen Landesmuseums, Ergänzungsreihe 8), edited by Alexandra Pesch and Ruth Blankenfeldt. Neumünster: Wachholtz, 2012. ISBN 978 3 529 01878 7
"Nimble-fingered Maidens in Scandinavia: Women as Artists and Patrons," pp. 865–902 in Reassessing Women's Roles as 'Makers' of Medieval Art and Architecture, vol. 2, edited by Therèse Martin. Leiden: Brill, 2012. ISBN 978 90 04 18555 5 (print), ISBN 978 90 04 22832 0 (e-book)
"Christianization, Female Infanticide, and the Abundance of Female Burials at Viking Age Birka in Sweden," Journal of the History of Sexuality 21:2 (2012): 245–262. ISSN 1043-4070
"'The Four Smiths' and the Replication of Bracteate Techniques," pp. 33–44 in Det 61. Internationale Sachsensymposion 2010 in Haderslev, Danmark (Arkæologi i Slesvig/Archäologie in Schleswig, Sonderband) edited by Linda Boye et al., Neumünster: Wachholtz, 2011. ISSN 0909-0533, ISBN 978-98-98584-33-3 (Museum Sønderjylland), ISBN 978-3-529-01899-2 (Wachholtz Verlag)
"Would There Have Been Gothic Art without the Vikings? The Contribution of Scandinavian Medieval Art," Medieval Encounters 17 (2011): 198–229. ISSN 1380-7654 (print), ISSN 1570-0674 (online). Reprinted as pp. 198–229 inConfronting the Borders of Medieval Art, edited by Jill Caskey, Adam S. Cohen, and Linda Safran. Leiden: Brill, 2011. ISBN 978 90 04 20749 3
Summary of honors, fellowships, and grants
Wicker has been a Visiting Professor at Uppsala University and is the first woman elected to foreign membership in the Philosophical-historical Section of the Royal Society of Humanities at Uppsala, Sweden. She also was named the first (and only) American chosen for membership in the Sachsensymposion, an international archaeological society.
Her research has been supported by fellowships from the American Council of Learned Societies, the National Endowment for the Humanities, the Getty Foundation, the American-Scandinavian Foundation and the Samuel H. Kress Foundation, as well as grants from the American Philosophical Society, the American Numismatic Society, and the International Research and Exchanges Board (IREX), and several Scandinavian sources.
Service to professional societies
Wicker is an Associate Editor of the journal Medieval Archaeology (London) and is Past President of the Society of Historians of Scandinavia and serves on the Runic Advisory Group for the International Symposium on Runes and Runic Inscriptions. She has served on the Executive Council of The Medieval Academy of America and also on the boards of the International Center of Medieval Art and the Society for the Advancement of Scandinavian Study.
History
Before coming to Oxford, Mississippi, as Chair of the Department of Art, Wicker was Director of the Scandinavian Studies Program and Professor of Art History at Minnesota State University, Mankato. She has participated in archaeological excavations in Germany and Sweden, including the Viking Age trading center of Birka. After completing an undergraduate double major in art history and three-dimensional art studio, she went to the University of Minnesota where she received her M.A. in art history and Ph.D. in interdisciplinary Ancient Studies, with an individualized program encompassing Scandinavia art history, archaeology, and philology.
Teaching
The medieval classes that Dr. Wicker will be teaching this year are Early Christian, Byzantine, and Islamic Art in the fall of 2013, and Early Medieval Art and Archaeology during the spring of 2014.
Courses at The University of Mississippi:
AH 101 Introduction to Art (not for art or art history majors)
AH 101 Introduction to Art (Honors)
AH 332 Early Christian, Byzantine, and Islamic Art
AH 334 Early Medieval Art and Archaeology (cross-listed with Anth 332)
AH 336 Viking Art and Archaeology (cross-listed with Anth 336)
AH 338 Romanesque and Gothic Art
AH 401 Research and Writing in Art
AH 530 Medieval Art (for graduate students)