Quodlibet
End of Spring Semester News
We are excited to have two new medieval M.A. students: Catherine Albers and Sharon Wofford!
Dr. Lindy Brady in the English Department has won two prestigious fellowships: Text Technologies Fellow at Stanford University, June 2015, and A. W. Mellon Postdoctoral Fellowship in Medieval Studies, Medieval Institute, University of Notre Dame, for the 2015-2016 academic year.
Two of our current PhD students, Brian Cook and Helen Davies, have been selected to participate in an NEH Summer Seminar: The Irish Sea Cultural Province.  Helen will also participate in the York Archbishops' Register Revealed Summer Institute. Brian will follow the NEH Summer Seminar with a modern Irish language immersion program.
Dan O'Sullivan (French, Modern Languages) has been promoted to full professor. He also published several articles in the past academic year on Thibaut de Champagne, medieval song, and contrafacture. He continues to serve as editor-in-chief of both Medieval Perspectives and Textual Cultures, and he encourages his colleagues to consider submitting an article or book review that might have an appreciative audience in those publications.
Recent Medieval Welsh Workshop
Dr. Joshua Byron Smith of the University of Arkansas, visiting the University of Mississippi on an SEC Collaborative Research Grant with Dr. Lindy Brady, teaches an introductory workshop on "Working with Medieval Welsh Sources" to some of our medieval studies graduate students.
Past News
March, 2015 Essay  Prize Winners

Rota Fortunae Prize for Best Medieval Essay (Graduate Division):  Brian Cook

Rota Fortunae Prize for Best Medieval Essay (Undergraduate Division):  Catherine Albers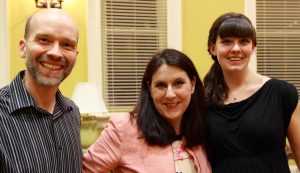 October 31, 2013
Greg Johnson, Associate Professor and UM's Blues Curator, enjoys a photo opp with Ben Bagby, who had just performed Beowulf to a packed house in Nutt Auditorium on a rainy Halloween night.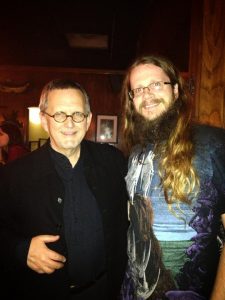 Fall 2013 
Three new medievalists join the UM faculty: Dr. Lindy Brady (English), Dr. Michael Gardiner (Music), and Dr. Steven Justice (English).
Spring 2013
This undated photo has been traced to Northern Mississippi. It shows a rare scene: some medievalists having fun.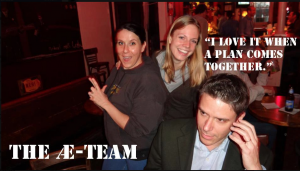 March 2013
Nancy Wicker, professor of art history, received a $27,000 digital humanities start-up grant from the National Endowment for the Humanities' Office of Digital Humanities to create an online database to provide easier access to information about the art and material culture of early medieval northern Europe, including that of the Vikings and Anglo-Saxons. She  is collaborating with Lilla Kopár of Catholic University of America and the Institute of Advanced Technologies in the Humanities at the University of Virginia.
An early version of website for Dr. Wicker's project can be found here.