Upcoming Events
Friday, February 27, 2015 at noon in the Hannah-Ford Room (the "Bondurant Lounge")
Fiona Somerset, Professor of English and Co-director of Medieval Studies at the University of Connecticut, will deliver a talk entitled "Early, Late, and Often: Repetition and Revision in Medieval Poetry of Social Protest."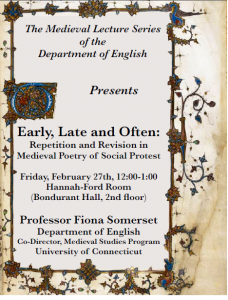 Tuesday, March 3, 2015 at 6PM

.

 
Elsa Filosa (Vanderbilt U) will speak on "Boccaccio and the Coup in Florence (1360-1)" in 207 Bryant Hall.
Tuesday, March 3, 2015 at 7PM
. Medieval Studies Open House" with light refreshments will immediately follow Dr. Filosa's talk. It will be held downstairs in the Farrington Gallery.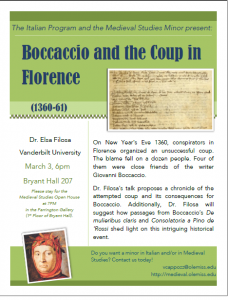 Dr. Filosa
Previous Events
 October 9, 2014  at 4PM in the Hannah-Ford Room (the "Bondurant Lounge").
Come hear Maja Backvall (Harvard University) speak on "Runes In and Outside the Sagas."
Thursday, March 20, 2014 in the Hannah-Ford Room
Come hear the second talk in our new Medieval Lecture Series!
John Fleming (Princeton University) will speak on "Secular Poets and the Sacred Page: from Saint Jerome to Geoffrey Chaucer."
The Hannah-Ford Room is in the central part of Bondurant Hall, on the second floor, directly across from the main staircase.
Tuesday, March 18, 2014 at 6PM in the Hannah-Ford Room
Laura Godfrey, graduate student in English, will present from her Master's Thesis: "Transubstantiation of the Cross in the York Play of the Crucifixion." Laura has been admitted to the Ph.D. program in English with a fellowship. Congratulations, Laura!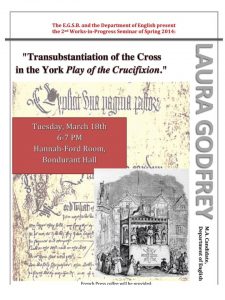 Thursday, February 6 at 6PM in the Hannah-Ford Room
Come hear the first talk in our new Medieval Lecture Series! Eleanor Johnson (Columbia University), will speak on "Theorizing Literary Ethics in Prose and Verse: Boethian Prosimetrics and 14th Century Defenses of Poetry."
Mockingbird Early Music Ensemble
Christmas Concert: In Dulci Jubilo
Sunday, December 8 at 3 PM
Paris-Yates Chapel
Admission: Free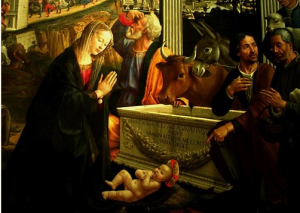 The performance will include medieval melodies still used today in our Christmas carols.
For more information: http://www.mockingbirdensemble.org/
Benjamin Bagby to Perform "Beowulf" on Halloween Night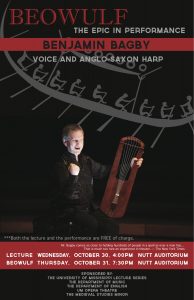 The Departments of English and Music announce a once-in-a-lifetime event coming to the University of Mississippi campus, as world-class performer Benjamin Bagby will sing the Old English epic poem Beowulf live, accompanied by Anglo-Saxon harp, on Thursday, October 31, 2013 at 7:30pm in Nutt Auditorium.
Mr. Bagby's stunning reconstruction of this medieval work (accompanied by modern English supertitles) has been performed in concert from Carnegie Hall to Munich to Bruges, and has earned rave reviews from the San Francisco Chronicle, the Berkshire Review for the Arts, and the New York Times, which writes: "Mr. Bagby comes as close to holding hundreds of people in a spell as ever a man has…that is much too rare an experience in theater."
Additionally, Mr. Bagby has generously agreed to discuss his craft of performing oral poetry and medieval music theory in a lecture entitled "Beowulf and the Anglo-Saxon scop: A Visit to the Workshop of 'A Singer of Tales,'" which will be held Wednesday, October 30 at 4:00pm in Nutt Auditorium.
Through the generous support of the University of Mississippi Lecture Series, the Department of Music, the Department of English, UM Opera Theatre, the Medieval Studies Minor, and Mr. Bagby himself, this event will be free of charge and open to the University of Mississippi community and the public.
For additional information, please contact Julia Aubrey (jaubrey@olemiss.edu) or Lindy Brady (lmbrady@olemiss.edu).
Click these links for a preview of what is in store at Ben Bagby's Beowulf performance: